Logos and visibil­ity standards
The Conseil des arts de Montréal logo must be included and/or the Conseil must be referred to in writing in the supported artist's, organization's or collective's communications.
Written references and visibility
Arts organizations that receive operating grants from the Conseil must mention this funding in their information, promotional, or advertising material, both printed and electronic, in acknowledgement of the use of public funds for arts activities.
Organizations that receive project grants must only reference the Conseil's contribution for the duration of the project.
Our logos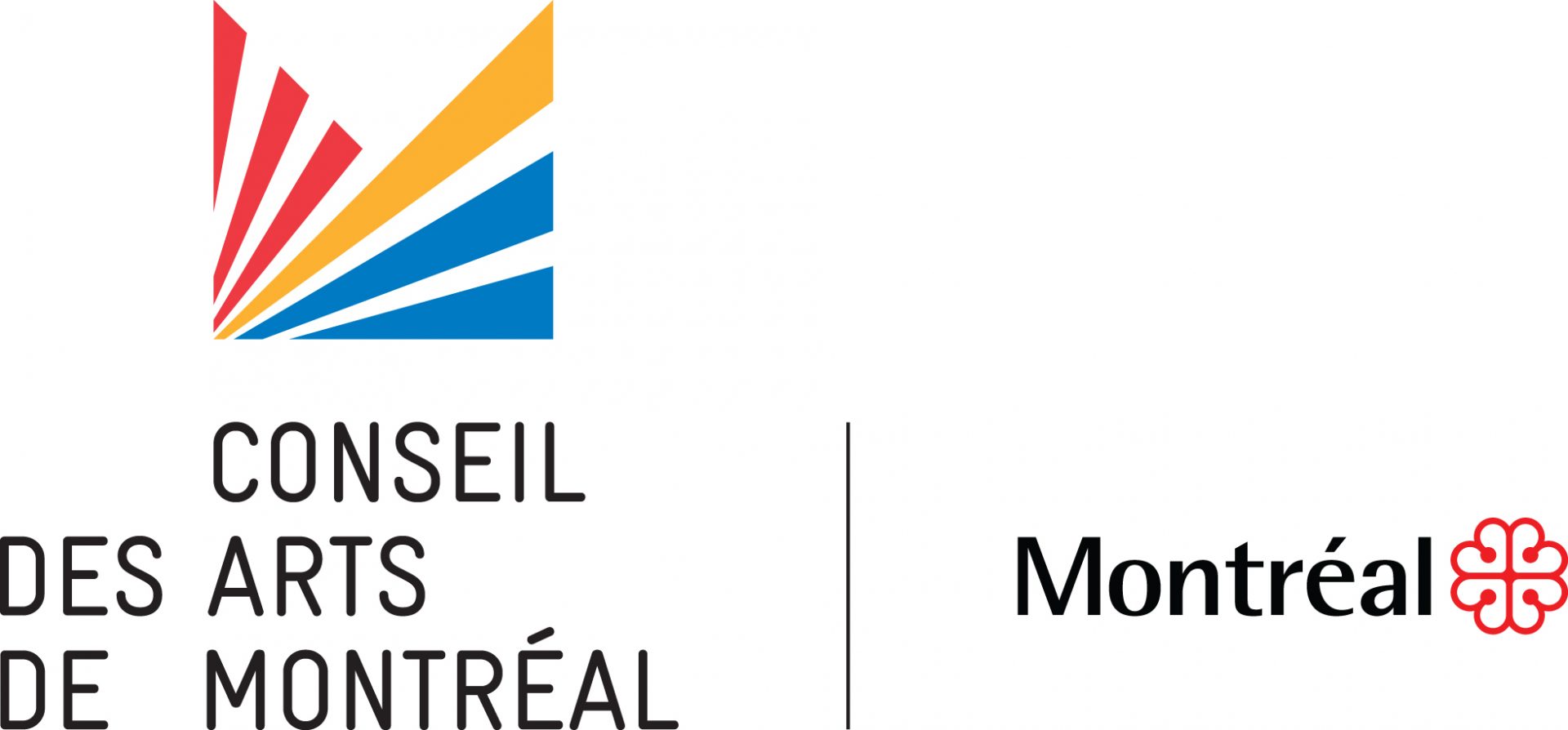 CAM + Ville de Montréal
Organizations must use the logo which includes the logo of the Ville de Montréal, the Conseil's principal partner. This logo is designed to better reflect the city's contribution. All organizations, collectives or artists that receive Conseil funding must use this logo except if the logo of the Ville de Montréal is already in the logo banner prepared by them. The positioning and size of the Conseil's logo should reflect the significance of its financial support in relation to other public partners.
Details of written references
The Conseil requires that a written reference be prominently visible in written promotional material, press releases, newsletters, social networks, and the website of the artist, collective, or organization.
Two suggested wordings are as follows
"[Name of artist or organization]" thanks the Conseil des arts de Montréal for its financial support."
"The creation of this work was made possible thanks to funding from the Conseil des arts de Montréal."
The following visibility elements must appear
In Digital Content
Websites
On the official website of the artist, collective, or organization, including linked pages to funded activities or on the page (or website section) dedicated to partners, if applicable.
Video credits
In the credits of a film or video featuring projects funded by the Conseil or for which the artist, organization, or collective has been supported, in whole or in part, by Conseil funding.
Newsletters
In newsletters sent by mass emails that mention the funded activity.
Press releases
In press releases distributed by the artist, collective, or organization that mention the funded activity.
Social networks
On social networks (the Conseil must be identified in all published posts, visuals, and events related to the funded activities, taking into account the significance of its financial contribution.)
In Printed/Web Documents
Posters, programs, covers, booklets, catalogues, banners, etc.
Printed or web-based visual materials related to the Conseil-funded activities.
Messages of support from management
An official message from the Conseil can be provided for official programs of collectives or organizations; requests for such messages should be sent to com.cam@montreal.ca at least six weeks ahead of time and specify the following information:

number of words requested
whether a translation is needed
whether an official photograph or signature is needed
whether there is a specific topic
deadline for reception of the message
For Promotional Activities
Press conferences
During press conferences or promotional activities, the Conseil's logo can be projected (PowerPoint, Gobo projection, etc.) by artists, organizations, or collectives that receive Conseil funding.
Banners
The Conseil can provide a banner for events. Please contact com.cam@montreal.ca at least 20 working days before the start of the event.
Verbal announcements
Artists, collectives, and organizations may also acknowledge the Conseil des arts de Montréal verbally during an event.
Speeches
A Conseil representative may give a speech if it is deemed appropriate; all requests for speeches should be sent to com.cam@montreal.ca at least six weeks prior to the event and specify the following information:
Date of event
Requested speaking time
Sequence of events
List of dignitaries, if any
Objective of partnership
Contact person and their contact information
The usernames of the Conseil des arts de Montréal